Web Admin dmottern@cjva.org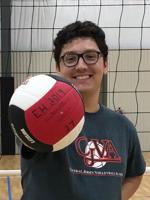 Name: Daniel Mottern
Hometown: Bound Brook, NJ
Current Position: Web administrator
Dan started with CJVA in the 7th grade in the Youth Development program, and continued playing throughout high school. He got the opportunity to go to Boys' Junior Nationals Championships in Reno, Nevada. Dan also started coaching while in high school, working with the Youth Development program, as well as assisting with Coach Pickrell and Coach Tully's teams.
After finishing his engineering degree in Cleveland, OH, Dan returned to New Jersey to work as East Hanover's Facilities Manager, as well as to coach the Boys' 15 Black team and the Girls' 15 Diamond team in the 2019-2020 season.
Now, Dan has shifted to working on our beautiful new website and registration site while he is teaching and working on his PhD at NJIT. You might still see him around on some weekends, and if there's a chance to play!
How would you describe your coaching style?
I think it's important to find a good balance between work and play. Becoming a stronger player is incredibly important, but it's also important to have fun and remember why we love playing volleyball!
What is your favorite characteristic in a player?
I love players who are open to criticism, and work hard to improve themselves. Like our motto says, "Every Day We Get Stronger!"
Who are the people that have influenced you most as a coach?
I've been influenced by several coaches. The most prominent are Coach Pickrell, Coach Tully, and Coach Kevin Rogers. But even now, I love seeing all of our coaches' styles, and learning how to improve!
What do you enjoy doing when you're not in coaching mode?
When I'm not coaching, I love cooking, baking, playing video games/tabletop games, and writing!
What's your favorite thing about volleyball?
My favorite thing about volleyball is the level of teamwork required to play well. It's not enough to just have a single star player- to be great at volleyball, you need to know how to work together, and I think that's great.